The Kitchen Depot is delighted to announce that we have teamed up with Shropshire Festivals.
We will be attending the Shrewsbury Food Festival on 4th-5th September 2021. So come say hello or even take part in the official Cook Along with the Chef sponsored by us. Book your tickets online now and secure your spot!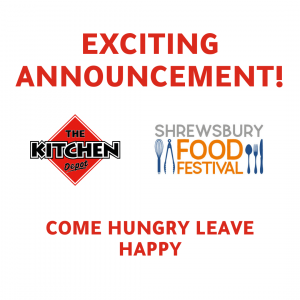 We can't wait to get down there and get involved with all the festival has to offer. It will be a great weekend, suitable for the whole family (even the dog). But don't just take our word for it, they say "It's a brilliant day out that will not only fill your stomach with totally tasty treats, but it will fill you with pride to be supporting so many fantastic local food and drink producers. We have our exhibitors, as well as cookery demonstrations, chef schools, a dedicated free-from area, BBQ stage, kids entertainment, live music, and so much more!"
Open from 10am until 6:30pm on Saturday the 4th September and from 10am until 5pm on Sunday the 5th September.
Follow us on Social Media to keep up to date with all the latest Kitchen Depot & Shrewsbury Food Festival News!