With Coronavirus restrictions easing up and the vaccine rolling out across the country, we can get back to spending time with the people we love and reconnecting in the comfort of each other's homes.
A great idea to bring everyone together again under the same roof (when permitted) is to host a dinner party. Sharing stories, laughs and of course great food will make everyone forget about all the things we've missed out in the last year and hopefully give everyone a sense of normality again.
If you're thinking of hosting a dinner party soon, why not follow these top tips on how to make it perfect.
Proper Preparation Prevents Poor Performance
A good place to start is confirming who is coming and when so you can give yourself enough time to set everything up. Take into consideration your guests dietary requirements and source your ingredients well in advance to avoid running around last minute, because you don't need the extra stress. It's also important to prepare your home for the imminent arrival of your visitors. Make sure to keep your living space tidy and clean, remember this might be first time in a while that your close friends and family have seen your interior so it's the perfect time to show off anything new. Lastly, make sure your kitchen is up to the job before the big day comes by testing all your appliances and double checking you have all the equipment you need (there's nothing worse than not being able to find that wooden spoon).
Can I see a Menu please?
The food you serve your guests is of course the main focus of the night so make sure you nail it! As previously mentioned, take into account any dietary requirements when constructing your menu and make sure it caters to all. If this is your first-time catering for a party of your chosen size, we'd recommend cooking meals that you are familiar with to avoid any disasters. Don't worry if you don't think your dish is sophisticated enough, good presentation will mask that and still make your guests say "Oooo," when they first lay eyes on it. An expert dinner party hack is to make dessert the day before so you don't need to worry about another thing during the big day.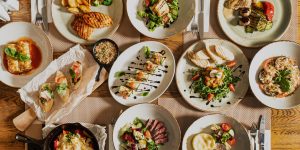 What drink would you like with that?
Thankfully you won't have to stretch your budget too much for alcohol as its customary for guests to bring a bottle to a dinner party. However, make sure to still stock a few options so that everyone's needs are being met i.e. Wine, beer, and perhaps a soft drink option. If you have the time, why not attempt a signature cocktail that's guaranteed to impress everyone.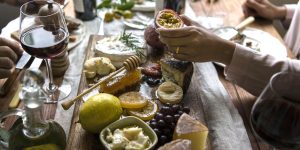 Setting the Scene
Creating the right atmosphere for your evening can be done easily with the right touches. Make use of dimmed lighting and candles to bring an intimate and relaxed feel to your dinner party while also incorporating the right music in the background of all your conversations. Set your table well in advance and make use of your finest dining-ware/cutlery to enrich the experience. Include fancy tablecloths, plate mats and other decorations for an extra personal touch that will make your guests feel like you really pushed the boat out for them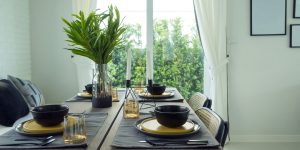 Handling the Aftermath
Although I'm sure everyone will have licked their plates clean, you'll still need to take care of the washing up. If you've properly prepared for the evening then you should have an empty dishwasher patiently waiting to make your life easy and do all the cleaning for you. However, don't panic if you don't have a dishwasher, soak your dishes in the sink overnight and finish them tomorrow so you don't have to spend too much time away from your guests. After everyone has left, clear up anything else that has been left like bottles, glasses and make sure to blow out those candles before you go to bed.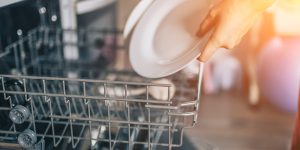 Follow these top tips and everyone will be calling you the host of the perfect dinner party.